Since early civilizations, mankind has embraced the concept of building a tomb to hold and honor the deceased. Now, people who can afford a traditional earth burial can afford entombment in a mausoleum.
Crypts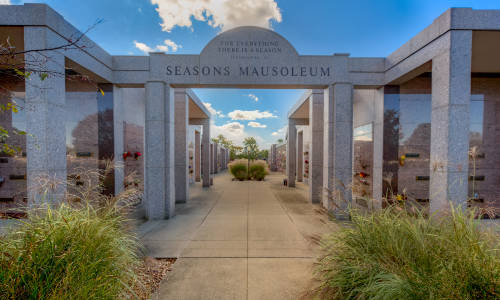 The cubicle within a mausoleum that holds the casketed remains of your loved one. It is highly suggested that metal caskets be used in mausoleums.
Memorials
Memorials for the mausoleum crypts and niches are made from a high quality bronze and may be personalized.
Interment and Service Fees
Service fees vary depending on the day of the week and the time of day the entombment takes place.
Private Estates
Private family estates can be designed, developed and created to reflect your family's wishes. Two man, 4 man and 6 man private mausoleums are available in a wide range of granite, size and shape.
The benefit of Mausoleum Entombment is that the initial cost covers all of the cemetery expenses. Included is the opening of the crypt, the name plaque, the use of the Chapel for committal services and no vault or tent is necessary. There will be no added expenses at the time of death.
Schedule a Professional Consultation Today!